CMYK is only four colors. Why stop there?
---
Accuprint's 5th color digital printing allows for an incredibly expanded color gamut, amazing neon and neon blend colors, clear accent, white printing and more.
Clear Ink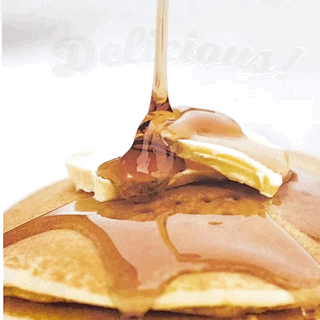 Give your business an elegant and upscale feel at a lower cost than you'd expect. Choose clear print from our 5th Color enhancements for a high-end gloss finish on product images, photos and logos. From business cards to menus, fashion catalogs to event programs, clear enhancements deliver a sense of sophistication that reflects the high quality your brand stands for. This clear print creates an amazing, almost holographic ghost look when printed in isolation on black, or other dark stocks.
White Ink
Take your brand materials beyond basic. White printing opens up a ton of creative opportunities that will help your business be seen. Use it as a base layer to print on colored media and retain full color image accuracy. That means photos, graphics and logos remain vibrant and stay on-brand. Apply it as a single color to darker media for a striking contrast. It can even be used to simulate metallic effects. If you're in event marketing, retail, beauty or hospitality, you'll be amazed at what white printing can bring to your designs.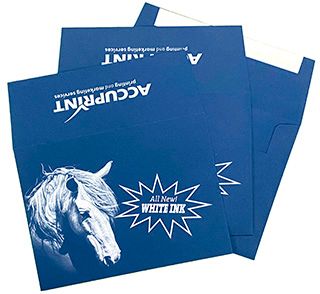 White Ink Printing on Dark Blue Envelope
Neon Pink
Next time you're creating marketing materials think about adding neon pink embellishment to your design. This vivid 5th color adds unmissable pop — drawing the eye to fundraising materials, direct mail, retail displays, seasonal specials, fashion catalogs and packaging. But it's not just for the pink!  Neon pink can also be blended with CMYK to create outrageous oranges and rich purples to match more brand colors digitally. Explore the possibilities, benefit from the impact and ask us how you can expand your creativity by expanding your overall color gamut.
Neon Yellow
Up the energy of your printed materials. Go bold and bright with neon yellow. It's affordable, even for personalized, short-run and on-demand printing jobs. Neon yellow is perfect for making an immediate visual impact and creating a hierarchy of messaging. Popular applications include promotional direct mail, safety stickers and marketing materials for sporting events. Make retail offers pop and invitations get noticed. Neon yellow enhancement can also be blended with CMYK to create a wider range of greens and intense yellows.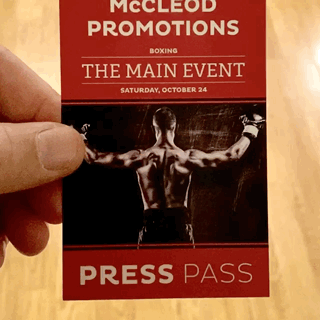 Invisible UV Security Printing
Invisible Red UV Security Printing
Our 5th Color invisible red security printing is nearly invisible to the naked eye. Text, codes and images can only be seen when placed under a UV LED light. Use invisible red printing to minimize the risk and expense associated with counterfeits on high-value redeemable print materials. Create gift certificates, tickets, event passes and more, worry-free. With its unmatched affordability for short-runs you can go back to running promotions and offering coupons with confidence.
---
FILE PREPARATION
Designing for 5th Color requires a basic understanding of working in the Adobe Creative Suite (Illustrator, InDesign and Photoshop).  Click the links below to download a PDF instruction sheet of how to properly prepare design files for taking advantage of 5th color capabilities.
COLOR CHARTS
Using Neon Pink and Neon Yellow in color blends can create visually stunning colors not achievable in standard CMYK color gamuts. We have printed color charts available and are happy to send them to you at no charge. Making them available as a download would be meaningless as they need to be printed with the neon 5th colors to properly show the resulting color. You can simply contact us to request a copy of the color chart.
WHITE ON DARK MEDIA in Illustrator
INVISIBLE SECURITY RED in InDesign
NEON PINK Raster Image Blends in InDesign
NEON PINK Vector-InDesign_Raster-Photoshop
NEON YELLOW Vector-InDesign_Raster-Photoshop
NEON PINK BLENDS_Intense Oranges and Pinks
WHITE OPAQUE MASKING_Metallic Medias
WHITE in Photoshop for Raster Images
---