Lettershop Services
---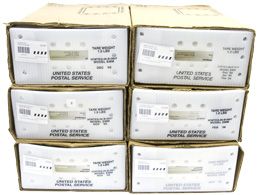 Keep your entire job in-house with Accuprint's direct mail capabilities. We are direct mail experts with years of experience, and will make the mailing experience smooth and easy for you.  Our services include:
List and Data Rental
Data Hygiene
NCOA (Change of Address Updating)
De-Duping
Barcoding and Automation Processing
High-Speed Addressing
Sortation, Tray/Bundle and Delivery to the Post Office
Permit Use
Inserting, Tabbing, Sealing
We print. We mail. You relax.
Anybody who has ever attempted to process a mailing themselves knows what a headache it can turn into.  From the ever-changing postal regulations, to the time spent preparing and handling the mail pieces, to properly completing the paperwork.  And without the proper barcoding and sequencing, you still won't be getting the lowest postage rate you are entitled to receive.  Save time, save money, and leave the headaches to Accuprint.