Mailing Lists
---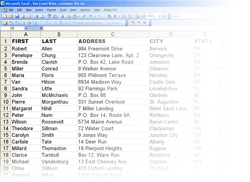 Direct marketing success starts with your data. Accuprint works with the two leading national suppliers of raw consumer and business data to provide our customers with the most updated and fresh information available. We can target your ideal customers by geography, likes and interests, demographics and more.
Consumer Lists
Occupant Lists (for saturation mailings)
Business Lists
One-Time or Multiple-Use
Data Appending
Email and Phone Records
New Movers
Real Property Data
New Borrowers
New Homeowners
School and School Districts
Government
Hospital and Medical Database
Nursing and Retirement Homes
Churches
 . . . More!
Data hygiene is also crucial to eliminate needless postage and printing expense.  Accuprint uses sophisticated software tied to the U.S. Postal Service to append four digit zip codes, perform NCOA (National Change of Address) move updates, CASS certifiy address quality, and isolate bad addresses.  We'll also produce data sorts, de-duping, merge and purge and so much more.  And after your mailing is processed, we'll return this corrected data to you for your records.
Propensities: Defining Your Ideal Customer
Propensities are filters we can apply when curating your list, defining those prospects most likely to need or want your product or services. These propensities are generated based on previous lifestyle indicators that have been accumulated over time, defining likes and dislikes, interests, involvement and other filters to more narrowly target these strongest prospects.  With nearly 4,000 total, some of these general propensity categories include:
Automotive
Communications
Consumer Goods
Credit Card
Financial
General Healthcare
Insurance
Investment
Media
Nonprofit
Political
Retail
Technology
Travel & Entertainment
Suppose your marketing needs to target college educated females, who own homes, have income greater than $75K, live within a 12 minute drive of your business, have a propensity for eating healthy and enjoy outdoor recreation. We can create that list.
Targeting: Better Returns, Less Cost
By discussing with your Accuprint representative your direct mail objective, we will work with you to specifically target prospects most likely to convert to paying customers. Doing so refines your list, decreasing marginal prospects and lowers your overall list count. This, in turn, means you spend less on printing and mailing production. So our goal is to help create a mail list full of high-value prospects based on your ideal customer persona, lowering your production costs, while simultaneously increasing your overall return on your marketing investment.
---
NOTE: We do not sell mail lists as an individual service. Our data services are intended to enhance our printing and direct marketing solutions, and are only available to customers using our printing and mailing services.