Trade Show Graphics
---
Accuprint offers a wide range of portable display products, fabric structures, modular exhibit solutions, display accessories and related graphics. From banner stands, portable signs, popup displays, tension fabric displays to literature racks, lighting, display cases, table throws and more, Accuprint is a one-stop-shop for all types of exhibit and display solutions. This pages shows some of the more commonly ordered items. Please visit our exhibitor handbook site to see our full line of trade show and event signage.
Portable Displays
Portable displays are designed for easy use and to prominently represent your brand and message. They are a means of advertising in retail settings, public places of all types and in face-to-face events such as trade shows, media events, fairs and expositions. Portable displays are quick and simple to install.
Table Throws / Table Runners
All trade show booths have one thing in common; a table. This is your home base, and serves as the central focal point of your booth. As such, your branding here is critical. Choose from full size or economy, loose or fitted. Printed on knit textile, these dye sublimation printed throws are washable and steamable to remove wrinkles on-site. Add accessories such as table top panel displays, retractable banner stands and more to complete your entire trade show booth.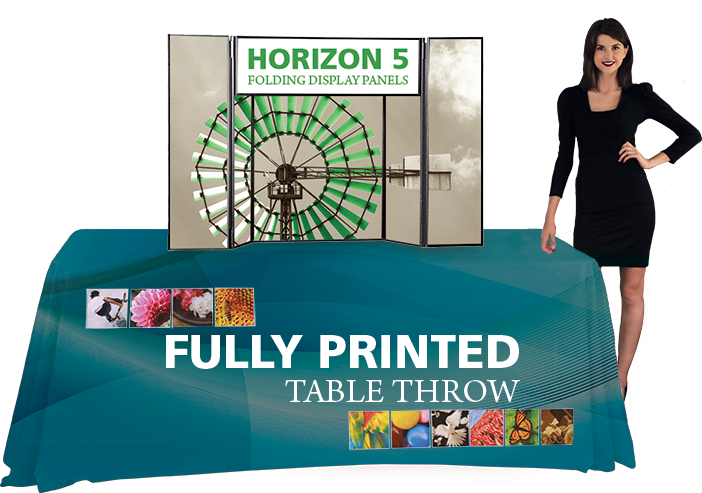 Graphic Updates / Replacements
If you have already invested in display walls or hardware, but only need to update your graphics, we can do that as well. Whether retractable banners, headers, inserts or wall graphic panels, we do it all.
Most commonly, back walls have a hook and loop system. The walls are soft "loop" fabric. For these panels, we print on an 11 mil. polyester or polypropylene film with gray block-out backing. We then laminate with a polycarbonate finish for protection, which has a durable 'pebbly' finish to cut glare from overhead lights at your venue. Finishing it with perimeter 'hook' tape, you simply replace the panels for your display as needed.

Table Top Displays
Light and portable, the perfect solution for smaller or short-term use booths. Update and change graphics easily.

Banner Stands
Many sizes and price points available. View our catalog below.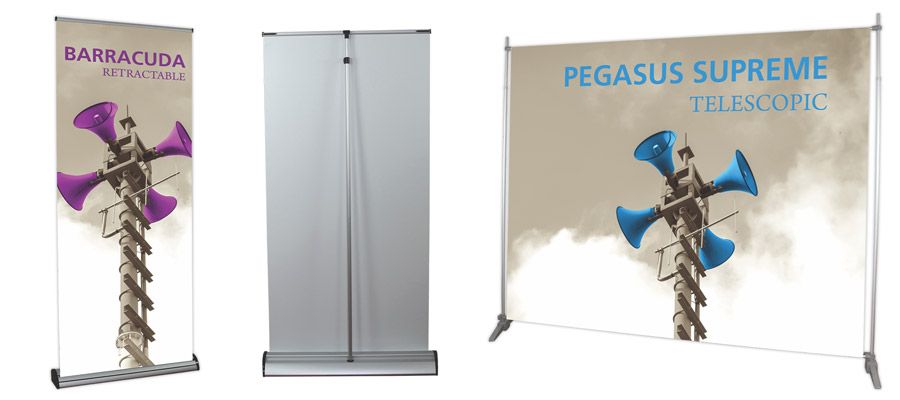 Fabric Structures
Fabric structures and displays combine zipper pillowcase fabric graphics with lightweight aluminum tube structures. From exhibit kits to hanging signs, arches and other architectural structures, these displays are ideal for use in tradeshows, as retail displays and in corporate spaces to add advertising with style.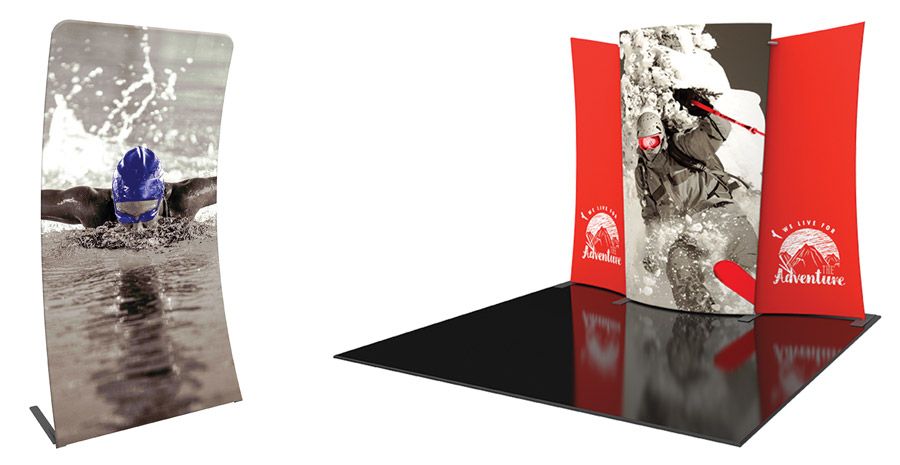 Logo Repeat Backdrops and Wall Displays
The perfect backdrop for pressers and media events. Proudly display your corporate branding or event graphics behind you and let the walls do some talking as well. Or simply use these in your trade show booth to complete your customers' visual experience. All walls come with easy assembly instructions and carrying cases.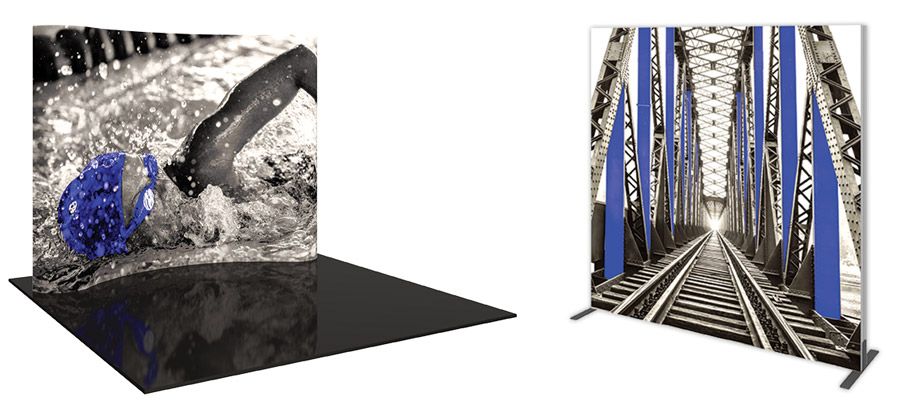 Modular Exhibits
Modular exhibits typically feature extrusion-based frames and fabric graphics, are sophisticated in design and are often customizable and reconfigurable. Modular display sizes span from tabletop to 10 feet and 20 feet inline to island sizes.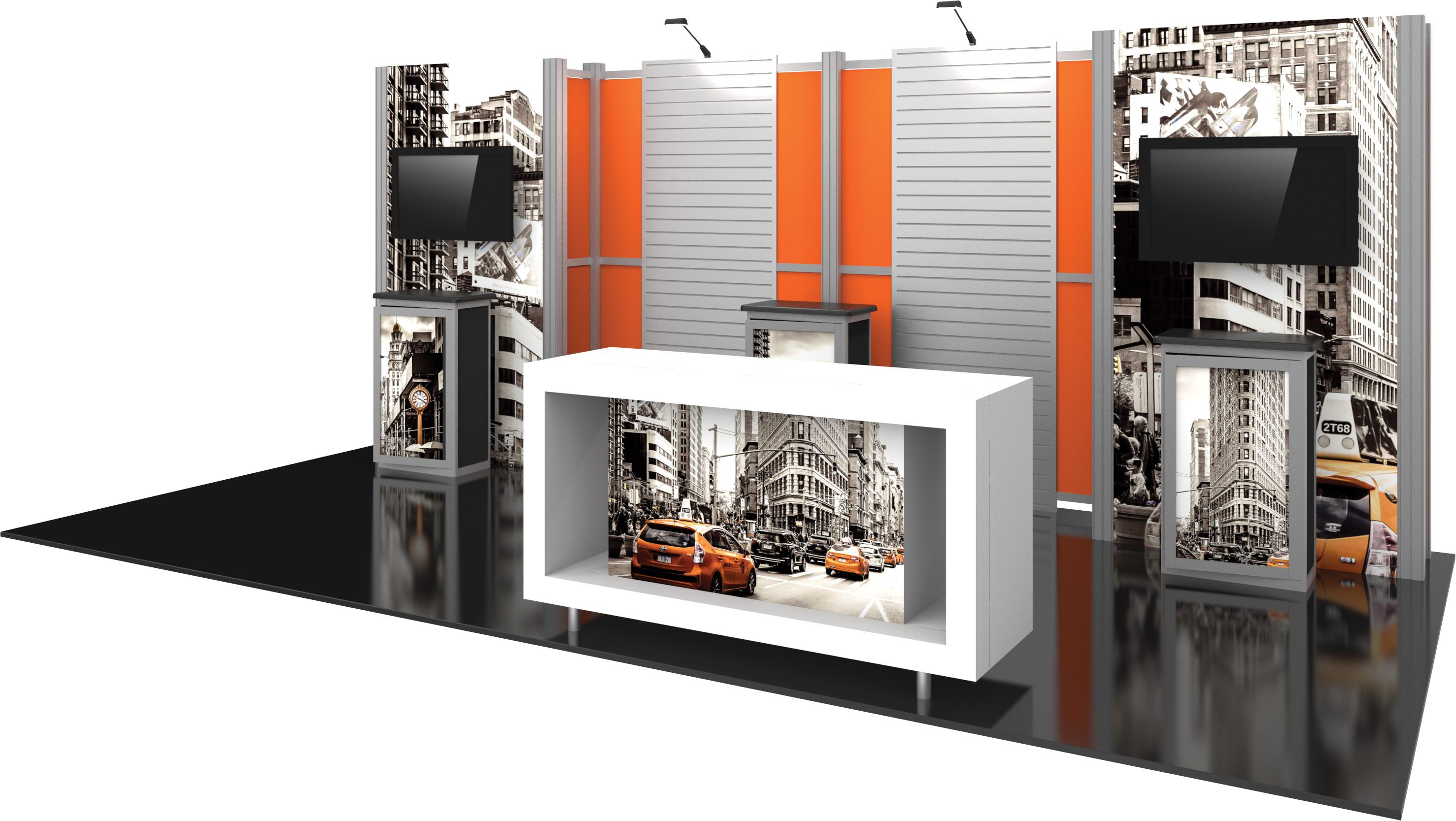 Outdoor Displays
Outdoor durable event signage, flags, sidewalk signs, lawn signs, wayfinding signs, tents and more.