OVERSIZE BROCHURES
Accuprint can now print oversize brochures (know as 'stringers') in short runs.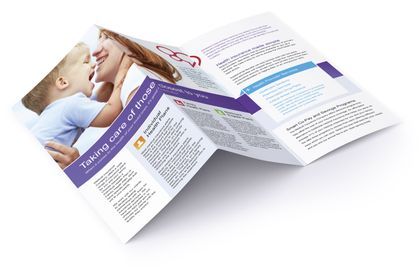 When you need more space to contain all your messaging, consider an oversize brochure.  While a 3-panel, 25.5"x11" brochure is the most common, we can trim these down to various custom sizes to make a unique and creative marketing statement.  How about square?  Or wider, rather than taller (landscape orientation)? Or, for a really dramatic difference to make your marketing stand out from the rest, incorporate Accuprint's 5th Color Printing into your design! Let your creative imagination run wild.
In addition, our brochure folding options include (but are not limited to):
Bifold brochures
Trifold brochures
Quad-fold brochures
Gatefold brochures
V-fold brochures
Accordion brochures
Send your own prepared art file, or have our in-house design staff work with you to create the perfect piece with your own branding and messaging. Printed brochures help you establish credibility while conveying your service offering. Bring us your brochure project and we'll help you get the conversation started with your customers.