Variable Data Printing
---
What we like to call "Intelligent Printing"
A product of digital printing, variable data printing (VDP) is one of the greatest innovations to hit the direct marketing industry in recent years. Variable data is the ability to personalize - or uniquely version - each impression coming off the press. In a larger run of say, 5,000 pieces, each one can be specifically targeted to a customer or prospect with variable information and imaging that is relevant to them alone. Numerous studies prove time and again that variable data printing, when executed properly within an integrated marketing campaign, can dramatically boost response rates, and ultimately, close rates.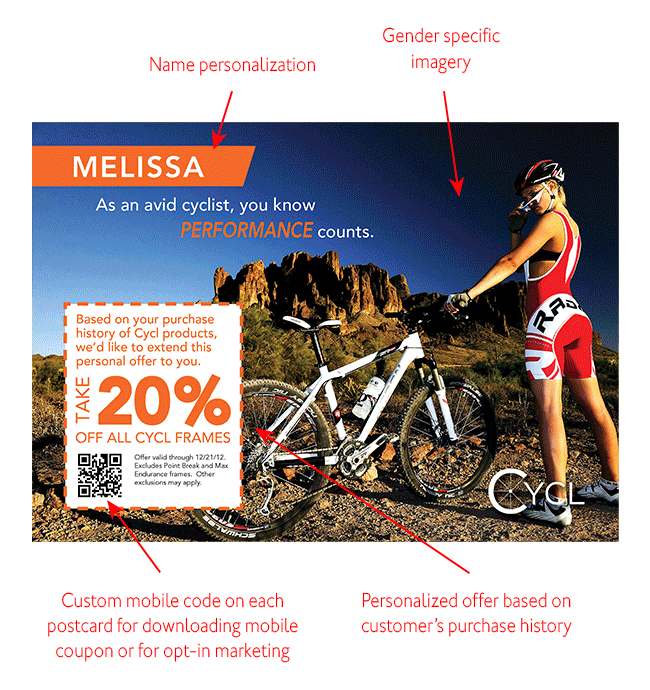 In its simplest form, variable data printing (VDP) is really just a giant mail merge, such as "Dear (NAME)". But although the technical process is similar, the robust solutions at Accuprint go so much deeper. Entire sections of body copy can be radically altered real-time to create individual communications, but with the benefit of longer press run pricing and postage savings. We can even personalize images themselves, such as embedding the prospect's name within an image. Each of the personalized images is then inserted real-time onto that prospect's mailpiece as the job is being printed. Or imagine segmenting your list based on gender, and appealing to each with different colors, tone of the message, images and more. Or perhaps you have a history of your customers and their orders, preferences, likes and dislikes, birthdays, significant anniversaries, etc. The possibilities are endless for creating unique, relevant, highly targeted communications, all with the ultimate goal of higher sales.
So how do I start?
Simply give us a call. We know this can be intimidating, but you don't have to be a marketing wizard or computer genius. Leave those details to us. And you certainly don't have to have a large budget. This process can be built for large or small execution, and we'll work within your budget. Our personalization and integrated marketing solutions now offer incredible marketing opportunities for small businesses that were once the domain of large corporations.
We will meet with you to discuss what assets you currently have, what your specific objectives are, and how we can enhance and build out a campaign meant to drive those results. From consultation, to strategy, creative, and ultimately production, we'll hold your hand every step of the way.
In the meantime, for creative brainstorming and to learn more about how other businesses are effectively using personalization, digital printing and integrated marketing processes, read our case studies which we update each month.