Photo Wall Murals and Custom Wallpaper
---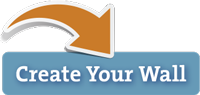 Create customized, one-of-a-kind wall decor!
From easy photo murals to bespoke wallpaper, posters, canvas wraps and wall decals, your custom room design is just a few mouseclicks away. Whether you want to display that cherished photo you took on your special family vacation, create a fantasy world for your child's room, or install a dramatic feature wall that has your friends and family talking, this is the place to do it. And by sourcing your custom wallcovering here from a local Capital Region print service provider, you have access to reliable and knowledgeable representatives who will guide you through the process and ensure your wall is everything you dreamed it would be.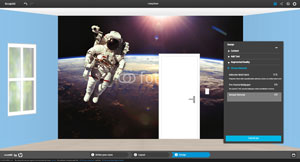 Perfect for residential, retail and commercial environments.
There is no obligation and it is free to use. This fun, intuitive software allows you to create and visualize how your wall will look. Add doors, windows, furniture, resize and position the image as needed, share your idea with friends and family and more. Once you are satisfied with your design, simply submit your order and an Accuprint representative will contact you with further details and to finalize the billing process.  Give it a spin!
OPTION 2:  Call Us
Yes, it's that simple. We'll discuss your idea with you and help you make it happen. Our graphic professionals can enhance the resolution of an existing image you may have, scan artwork or even begin a WallArt project on your behalf and send you the link to continue.  We make it easy for you to create the wall of your dreams!


Digitally printed wallpaper designed by you, as unique as you! Within the HP WallArt Designer software you have access to thousands of vectorized wallpaper designs. Simply browse the catalog of designs, organized by theme, and then customize that design by changing the size and color palette of the graphics.
HELPFUL HINT: For faster and easier pattern searches, do your initial pattern search at http://www.patterndesigns.com/en.  Then, copy the item number you like and enter it in the Pattern Design search box during the design step.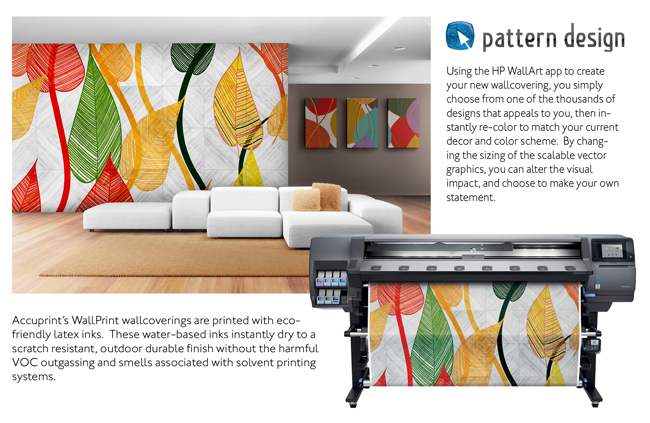 Image Guidelines
You have the option of choosing from millions of images in the Fotolia library, or uploading your own. In either case, image resolution must be considered. As always with printing, the higher the resolution at final printed size, the better. We recommend 150 ppi (pixels per inch) for the best quality, but even as low as 100 ppi produces acceptable final image quality for full size wall murals. Because the wall is viewed from 6-8 feet away in order to visually take in the full experience, lower resolution is not as critical a factor. Accuprint also has software that allows us to increase the resolution of an existing digital image to produce the highest achievable quality.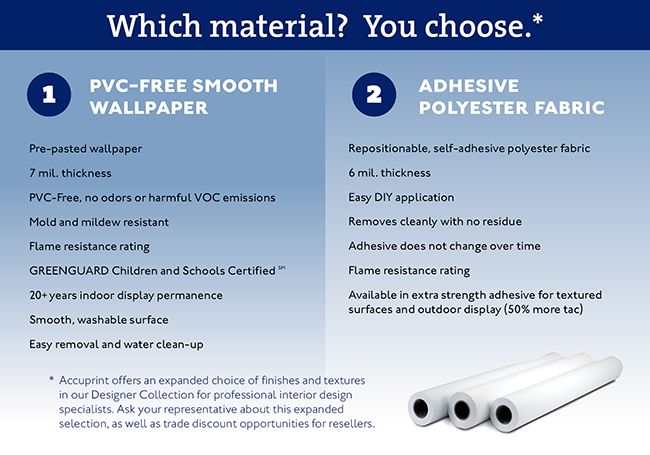 Installation
Your custom wallcovering will ship with a custom instructional guide, showing panel images, panel sequence and outlining the installation procedure. Here is a brief video to help visually explain the wallpaper installation process.  Our you can download our installation guidelines here.