Digital Printing
---
Perfect For Short Press Runs and Tight Deadlines
Over the past decade, digital printing has begun to dominate the short-run, on-demand needs of today's print buyer. Digital quality has improved exponentially, to the point where an untrained eye can't tell the difference between offset and digital. In fact, digital printing has now become the darling of the industry due to its speed, lower cost and variable content printing capabilities.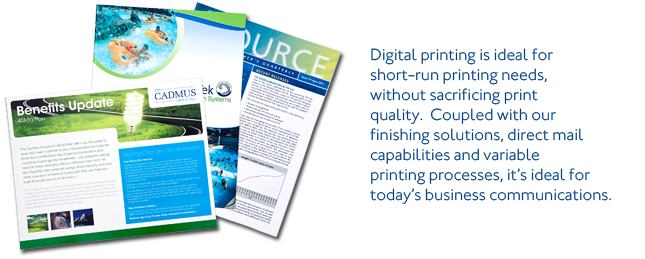 Offset Quality Printing at Digital Production Speed
Our state-of-the-art digital press prints at 1,200 dpi, up to a 13"x19" sheet size, with perfect registration, on coated stocks up to 350 gsm (14 pt.). And now, when you need that printed piece in hours rather than days, with quality that rivals our offset printing, Accuprint has the solution. Gone are the days of obsolete inventory because of content changes. Now, you can order just what you need, update the file and order another small quantity, at a price much lower than you would pay for short-run offset. And Accuprint's finishing solutions, such as creasing and UV coating, means you will end up with an extremely professional looking piece, even at short runs.
Probably the most powerful benefit of digital printing is the ability to vary the content of each printed sheet that comes off the press. With offset printing, a plate is made with static content, and cannot be changed without making an entirely new plate. This ability to dynamically alter content - known as variable data printing, or personalization - has opened up incredible opportunities for direct marketers.