List & Data Services
---
Your marketing is only as strong as your data!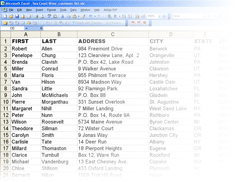 Is your marketing suffering from list fatigue? Yes, that's a real condition. Using the same ol' list mailing after mailing creates diminishing return and wasted spend. Mailing lists need to be nourished and pruned just like a garden to keep them healthy and productive. We can help.
Start fresh or simply freshen up.
Whether you are starting from scratch and need to purchase a new list, or simply wish to infuse your in-house data with new prospects, Accuprint will procure the list you need. We'll meet with you to determine the ideal prospect for your business based on demographic and psychographic filters, and create a list which specifically meets your needs. For example, a high-end jeweler may use household income or home value to filter a list down to its ideal prospects. Or the specialty health food store might want people who enjoy gardening, are into physical fitness or enjoy outdoor activities. Every business has profiles, or 'personas', of their ideal customers. Let us help you find yours!
Consider us data hygienists.
Data hygiene is crucial to eliminate needless postage and printing expense. Accuprint uses sophisticated software tied to the U.S. Postal Service to append four digit zip codes, perform NCOA (National Change of Address) move updates, CASS certifiy address quality, and isolate bad addresses. We'll also produce data sorts, de-duping, merge and purge and so much more. And after your mailing is processed, we'll return this corrected data to you for your records.
Personalize, personalize, personalize.
We live in a world that is becoming highly personalized. Your customers expect it. And strong data leads directly to greater returns. A data list doesn't just have to be name and address. Perhaps you have your customers' birthdays, or last date of purchase, or even their entire purchase history. Or maybe you know their musical preference, favorite food or favorite author? This information is powerful when used properly in a personalized cross-media campaign. If it's possible to generate a 500% greater response rate, or 300% greater sale conversion rate, isn't taking some time to strengthen your data worth it? Don't have the information about your customers and prospects that you want? Then you need Accuprint. We'll help design a campaign to strategically aquire this information for you. And then further use this refined data for more precise, targeted marketing, further lifting revenue and response.