Email Marketing
---
Print + eMail = Increased ROI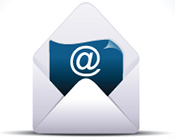 Adding multiple channels to your marketing mix is the quickest way to increase the effectiveness and response rates you are seeking with your marketing investment. While print is still the leader in driving potential customers to your online content, email is a powerful weapon in your communications arsenal as well. With Accuprint's email marketing services, you don't have to learn HTML or how to handle data records. We offer a white-listed service to ensure your emails comply with CANN-SPAM regulations. Accuprint can design, develop and release your campaigns in a start-to-finish solution designed around your particular marketing needs.
Add the Power of Personalization
By now, most marketers understand the power of personalization. But creating highly personalized content is no longer just for print. Accuprint's data specialists will incorporate meaningful and relevant content, specifically targeted to your customers and prospects. From simple name personalization, to highly complex image personalization, we'll create outbound emails that carry unique messages and imagery that speak to your recipients personally. We can even develop campaign logic utilizing your existing data that drives more revenue.
Don't Have eMail Addresses?
While most businesses today have begun collecting email data on their customers and prospects with the use of CRM (Customer Relationship Management) software, many still have not. Or perhaps your business is getting into a new product line and is looking to appeal to a different market segment? Using our cross-media marketing solutions, Accuprint can help conceptualize, develop and execute a lead generation campaign designed to build an email database for your future marketing efforts.
Email marketing? Yup . . . we do that.