Introduction
---
Integrating print with digital and online media to drive marketing ROI.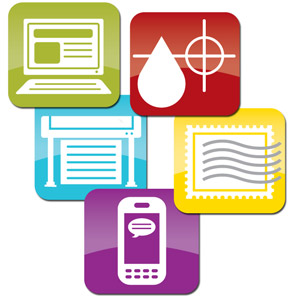 With so many printing projects ultimately being mailed, we began to include direct mail in our services back in the early `90s. Little did we know back in those days before the internet how these simple mailhouse services would morph over the years into the complex and powerful communication tools we work with today!
As technological change has accelerated, Accuprint has kept pace. We are excited to now offer the integration of online and mobile technologies with our printing and mailing processes. Whether connecting your printed piece via landing pages, or creating full mobile websites to work with QR codes on your marketing collateral, we've extended the conversations our clients have with their customers across multiple channels. This enables you, our client, to measure campaign effectiveness, optimize your marketing mix, get instant feedback and lead alerts for your sales support staff and so much more.
Our ultimate goal? Helping you generate greater return from your printing investment. Whether creating more leads, more sales, cross-selling products and services . . . whatever your objective, our goal is to help you reach and surpass your organizational goals. Give us a call today to learn more!